Embark on a captivating journey through Indonesia's diverse hospitality landscape as we unveil a kaleidoscope of unique hotels that redefine the art of accommodation. From luxurious Viceroy retreats in Bali to submerged wonders in Leebong Private Island, Indonesia offers an array of unparalleled stays that seamlessly blend culture, innovation, and natural beauty.
In this exploration, we'll navigate the archipelago's enchanting corners, discovering boutique gems, historical havens, and architecture that promise a night's rest and an immersive experience, weaving tales of tradition and modernity.
PALEO Stone Age ' Cave House Hotel ', Yogyakarta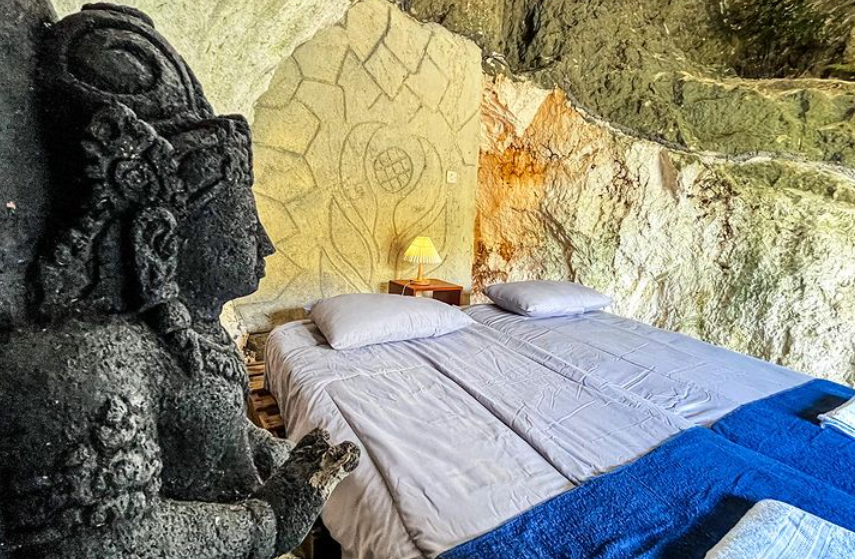 Palaeolithic hotel experience in Yogyakarta will drive you into new sensation vibes of staying in a cave. This unique boutique hotel offers you a perfect place restaurant inside the cave, more than 20 perfect spot photos available, and a restaurant menu that is as unique as the hotel. Getting to this hotel is quite easy with the support of a proper road along the way; you will need only 15 minutes to get here from Wonosari City. Besides the hotel, PALEO Stone Age offers natural tourism that leads to two options: an entrance fee of only IDR 20.000 with free ice cream or food included with only IDR 30.000.
Start from IDR 550.000/Night
Location: Betoro Lor, Karangase, Ponjong, Gunungkidul, Yogyakarta
Leebong Island 'Private Island Resort', Belitung, Indonesia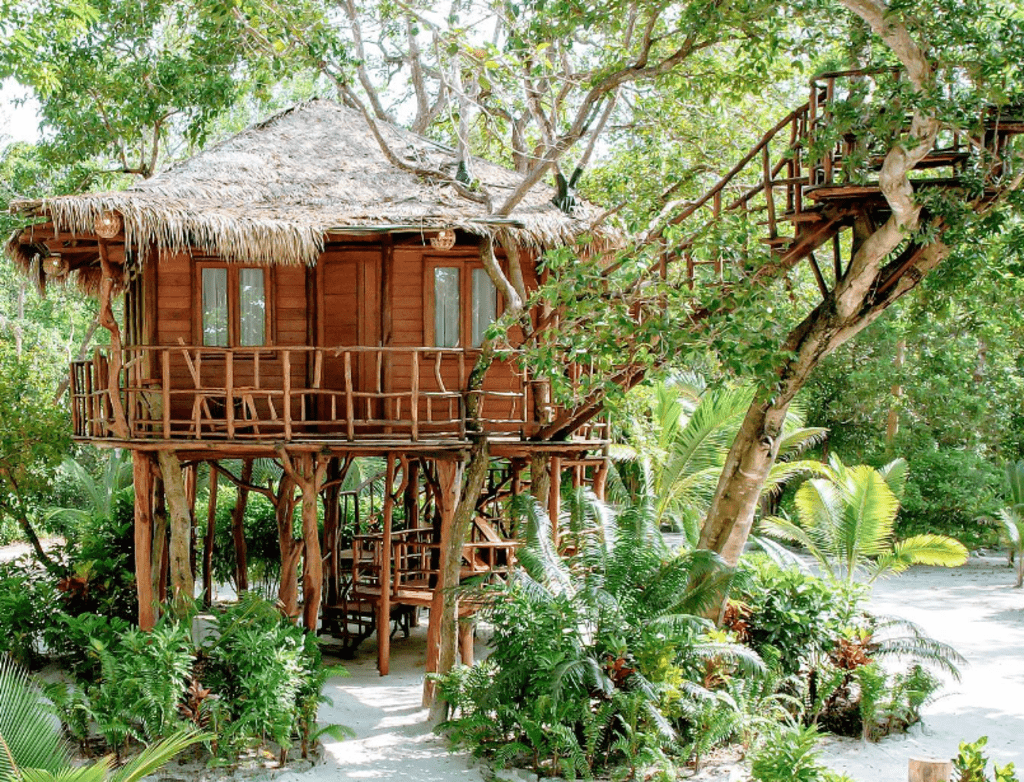 One of the best places to stay is located in the Southwest of the island of Belitung. Leebong island is a 37-hectare island that is located 3 kilometers from the mainland of Belitung island. To get to this amazing place to stay, it only took an hour's flight from Jakarta City. Leebong Island is a famous villa for its natural beauty with a private pool that is surrounded by a white sand bank. The unique simpor leaves combined with mangroves make this accommodation worth the experience of natural tropical forest richness. The design reflects traditional Indonesian architecture and harmony with a blend of teak and wood 'Alang-Alang' roof that creates a calm and exotic atmosphere. It is a great getaway to immerse yourself in serenity.
Start from IDR 4.800.000/Night
Location: Pegantungan, Badau, Belitung Regency, Bangka Belitung Islands 33452
Visit leebongisland.com for further information.
Mara River Safari Lodge (Unique Boutique Hotels in Indonesia)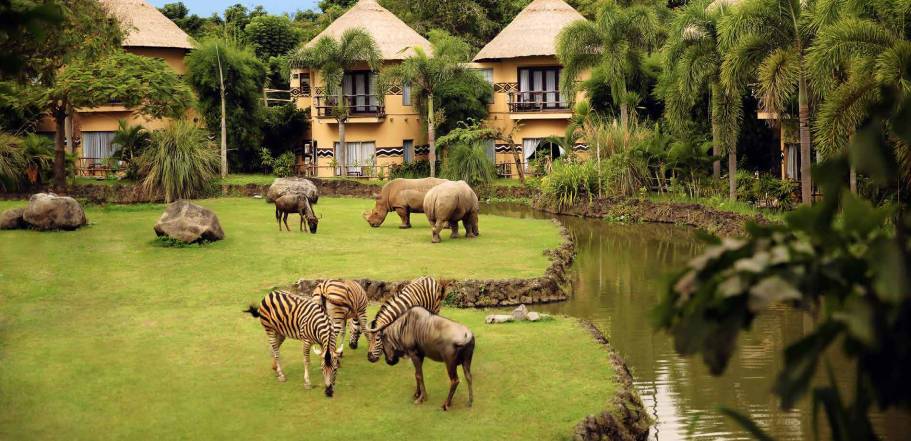 This unique place to stay with an African-themed resort offers a holiday experience with safari-inspired nuance and accommodation. As part of Taman Safari, Bali is located within the grounds of the Taman Safari, and the spacious open-air terrace features and bamboo roof of each room allow guests to observe and overlook different animals at close range. It is such a cool and unique hotel in Bali to experience unusual places to stay part of Bali and away from the tourists.
Start from IDR 2.700.000/Night
Location: Jl. Prof. Dr. Ida Bagus Mantra No.Km. 19, Serongga, Kec. Gianyar, Kabupaten Gianyar, Bali 80551
www.balisafarimarinepark.com
Viceroy Resort in Ubud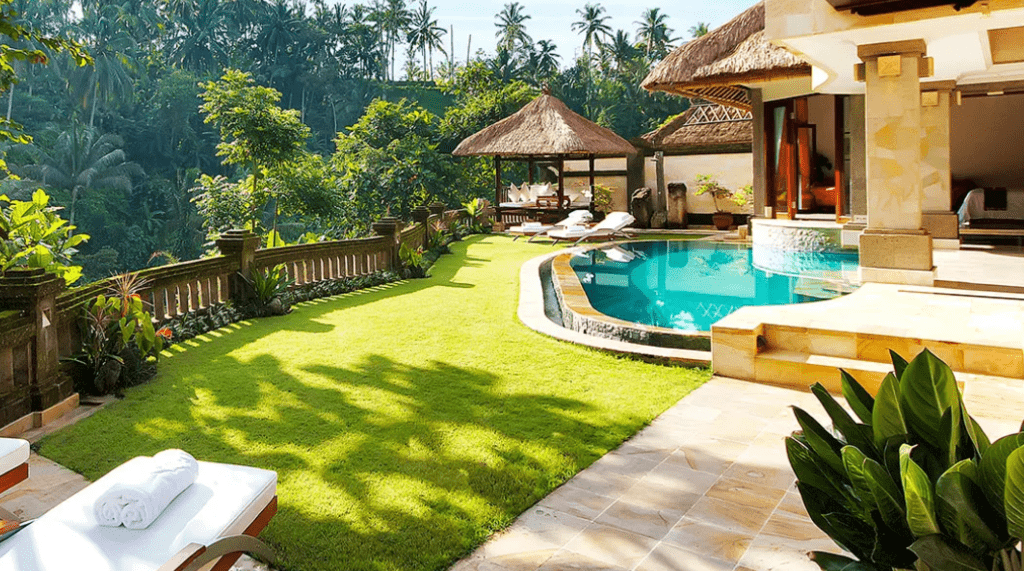 Awarded as the world's best unusual and unique resort Bali in Ubud by Conde Nast Traveler in their Readers's Choice Awards. Besides Ubud's famous rice fields attraction. This unique stay in Bali offers a luxury hotel and villa with an infinity pool and private outdoor pool. It is 5 minutes from the centre of Ubud. All villas have stunning lush jungles and a sense of calm sanctuary spa swimming pool on Paradise Island. Experience the luxury architecture and design with a traditional Balinese touch stay in Ubud.
Start from IDR 11.000.000/Night
Location: Jln. Lanyahan Br. Nagi, Ubud 80571 Indonesia
www.viceroybali.com
Bambu Indah Resort (Unique Stays in Bali)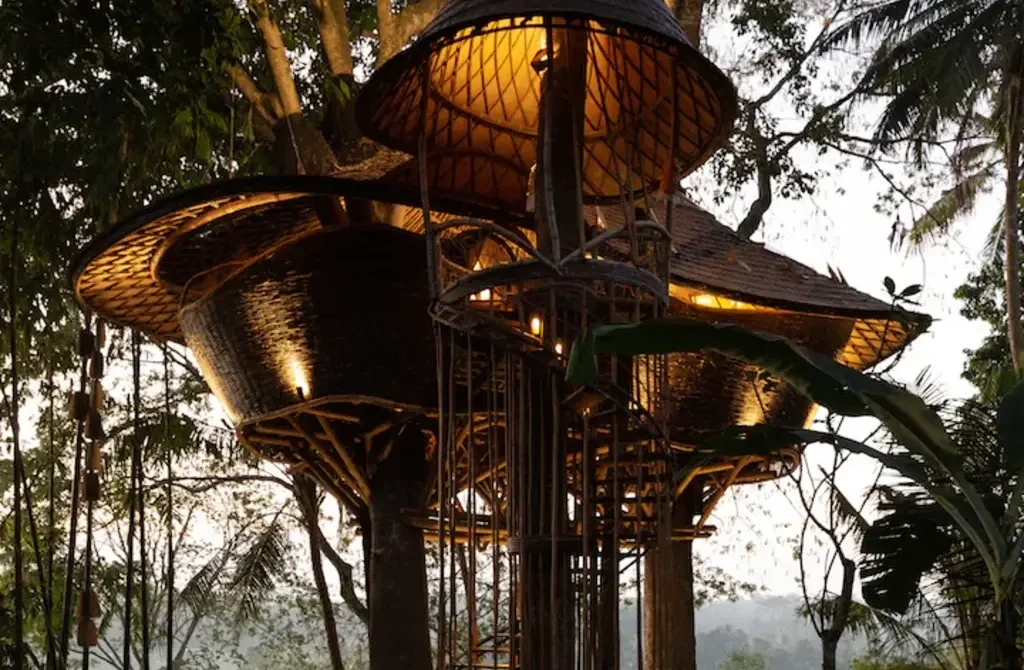 Bamboo House is a boutique eco-friendly hotel that ensures you live in harmony with nature comfortable stay. Ubud is the perfect place to experience the nuance of the unique and beautiful water from the ground, and the energy from the sun offers a rejuvenating, otherworldly experience. The room is high up in the treetops or down by the river, and the best to try is its natural swimming pool.
One of the most healing places to stay in Bali with positive energy attracts healing seekers and offer a place to relax and a wide variety of treatment for relaxing massage pods. Besides being a perfect place to relax, this unique hotel provides special treatment of traditional Balinese and a massage given by masseuses hand-picked.
Start from IDR 3.800.000/Night
Location: Jl. Baung, Sayan, Kecamatan Ubud, Kabupaten Gianyar, Bali 80571
www.bambuindah.com
Exploration of Unique Hotels in Indonesia
As we draw the curtain on exploring Indonesia's unique hotels, it becomes evident that the archipelago is not merely a destination but a canvas where hospitality transforms into an art form. From the luxury landscapes to the lush jungles, each unique hotel encountered reflects the soul of its surroundings. The blend of tradition and innovation and deep respect for Indonesia's cultural diversity create an indelible mark on the traveller's journey.
The luxury villas, treehouse sanctuaries, and underwater wonders have redefined luxury and left an imprint on our understanding of what a truly unique stay can be. Indonesia's hotels are more than accommodations; they are portals to a rich tapestry of stories, inviting each visitor to become a part of the narrative woven into this enchanting archipelago's very fabric.
Find this article helpful? Check out other articles from Social Expat for more updates about Travel updates in Indonesia!