Rabies transmission cases have increased sharply in several provinces in Bali, inevitably forcing the government to act quickly. From January to early June this year, rabies has claimed three lives in Bali. The Head of the Bali Health Service, I Nyoman Gede Anom, revealed this.
Anom explained that the three deaths were caused by the victims who were not receiving the anti-rabies vaccine (VAR). The victims who died included a 5-year-old boy from Buleleng and two young women from Jembrana.
"We are making sure that no more people die from rabies. We should be able to prevent (rabies) cases easily," said Anom in his office Thursday, 22nd of June, 2023.
The Bali Health Service noted that from January to early June 2023, 19,035 cases of people were being bitten by rabies-transmitting animals (HPR). This is unfortunate because Bali once held the status of a rabies-free zone in 2008.
The number of rabies cases in Karangasem Regency is the highest in Bali. From January to the 21st of June, 2023, which has 59 cases of rabies were recorded. In second place is Jembrana Regency, 49 cases, followed by Gianyar Regency, with 48 cases.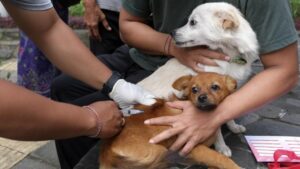 Head of the Karangasem Regency Agriculture, Food and Fisheries Service I Nyoman Siki Ngurah, said that judging from the number of HPR bites, Karangasem was low because it was only 539 bites. It is far different from other districts, such as Buleleng, which has reached over three thousand HPR bites.
"However, from the number of positive cases of rabies, which have reached 59 up until this day, we are indeed the highest case in Bali. Even though Karangasem Regency has the highest cases of rabies transmission, thankfully, no one has died," said Siki Ngurah at the Candra Buana Cultural Park, Karangasem, Thursday, the 22nd of June 2023.
Rabies VAR stock in Bali has reached 41,300 doses up until today..
The Bali Health Service said they have a stock of 41,300 anti-rabies vaccine (VAR) doses. The Head of the Bali Health Office, Gede Anom, ensures that this amount is sufficient to supply the needs of all districts and cities in Bali.
"I think there are enough stocks for VAR in Bali, and we usually provide VAR to regencies or cities that need it depending on their requests," said Anom.
Anom explained that the average need for VAR stock in regencies or cities is 1,000-2,000 doses. Anom appealed to the public not to worry about the amount of VAR stock in the available health facilities around them.
Anom also appealed to all pet owners in Bali to bring their pets to get the rabies vaccine at the nearest animal health centre to prevent and break the chain of rabies spread in Bali.
Interested in this topic? Check out our other articles from Social Expat: