BADUNG, BALI (October 2023) – Grand Hyatt Bali is thrilled to share the news of its recent achievement – the prestigious EarthCheck Silver Certification. EarthCheck stands as a global pacesetter in sustainability and destination management advisory services tailored to the travel and tourism sector. This certification, recognized worldwide, exemplifies Grand Hyatt Bali's unwavering dedication to sustainability and its commitment to setting high standards for ecoconscious practices in the hospitality industry.
After a year of diligent preparation and ten months of continuous monitoring and evaluation of the resort's performance, the EarthCheck assessment process stands out for its rigorous scrutiny,
ensuring that the highest sustainability standards are met. To uphold these commitments, Grand Hyatt Bali has devised a comprehensive Sustainability Plan. This includes initiatives such as the
provision of refillable water bottles in every guest room, the establishment of waste management and composting areas, and holistic approaches to enhancing energy and water efficiencies.
Since the launch of these efforts, Grand Hyatt Bali has witnessed tangible and encouraging results. Notably, there has been a remarkable 27% reduction in CO2 gas emissions stemming from
electricity, heat, and steam consumption. In addition, an impressive 1,126.49 metric tons of total recycled materials have been diverted, contributing to a remarkable 95% waste diversion rate.
Expressing his gratitude for this achievement, the General Manager of Grand Hyatt Bali, Mr. Marco Groten stated, "We are truly honoured to receive the EarthCheck Silver Certification. This
recognition underscores our unwavering commitment to integrating sustainable practices into our daily operations. We are dedicated to continuing our sustainability journey, making a positive
impact on our environment, and providing our guests with an eco-conscious and responsible travel experience."
Looking ahead, Grand Hyatt Bali remains firmly committed to actively implementing environmental protection measures and championing green practices in its daily operations, ensuring a more sustainable and responsible future for all.
***
About Grand Hyatt Bali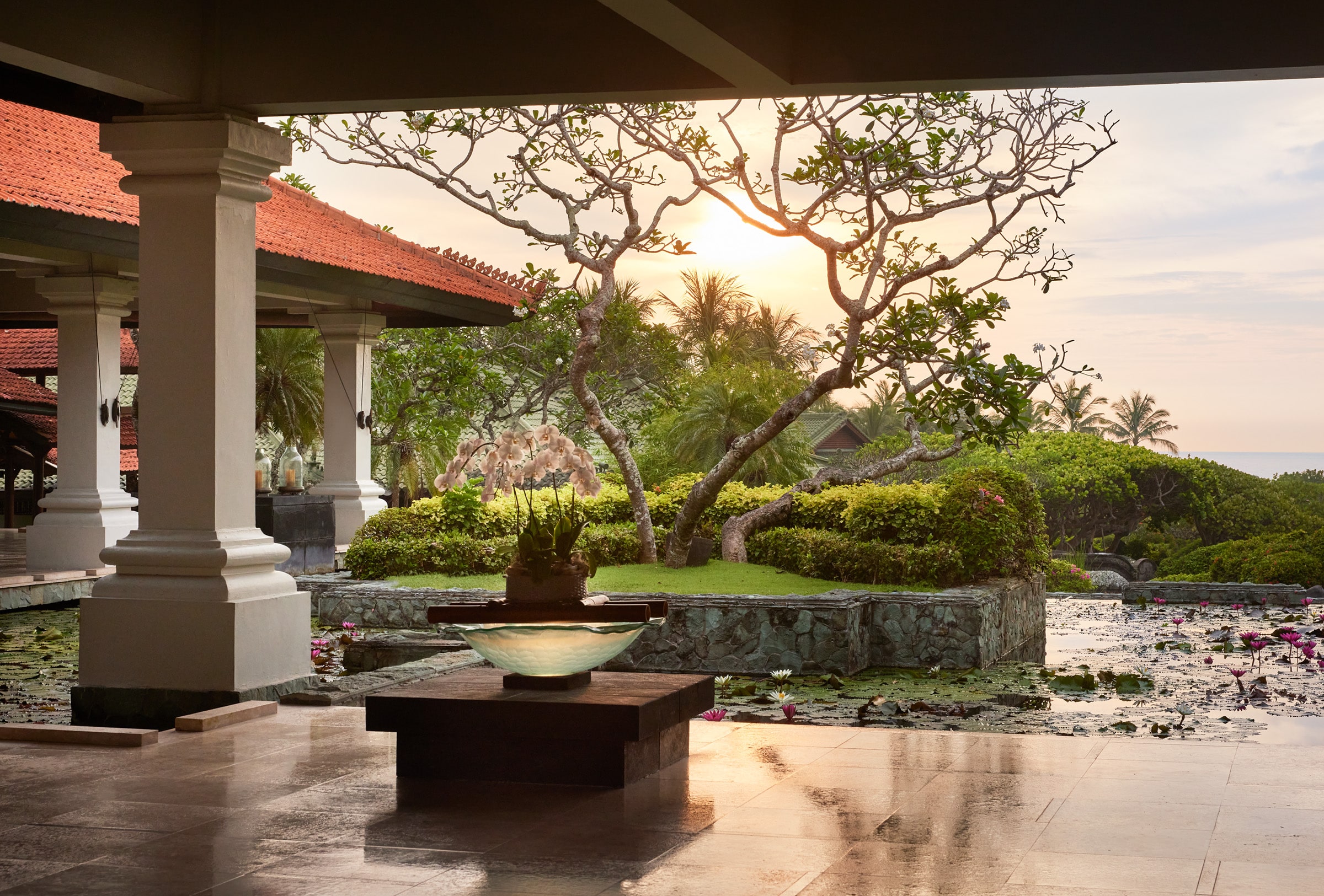 Grand Hyatt Bali is the crown jewel of resorts on Nusa Dua, with 636 rooms and suites and two villas. Opened in 1991, the hotel was conceived as a water palace with lakes, landscaped gardens and lagoons. Grand Hyatt Bali offers a perfect blend of business and pleasure, featuring multiple leisure facilities and 24 meeting rooms of various sizes. For more information, please visit grandhyattbali.com.
About Grand Hyatt
Around the world, Grand Hyatt hotels bring travel dreams to life by celebrating the iconic in small details and magnificent moments. Located at the crossroads of local culture and global business within major gateway cities and resort destinations, each Grand Hyatt hotel is uniquely designed to be a captivating destination within a destination. Grand Hyatt hotels deliver welcoming and elevated service, first-class accommodations and an abundance of options within a multicultural backdrop of dramatic architecture and bold and vibrant design. Grand Hyatt hotels boast inventive restaurants, luxury spas, fitness centers, and business and meeting facilities.
For additional information or to make a reservation, please visit grandhyatt.com. Follow @GrandHyatt on Facebook and Instagram, and tag photos with #GrandHyatt.
About World of Hyatt
World of Hyatt is Hyatt's award-winning guest loyalty program uniting participating locations in Hyatt's Timeless Collection, including in the Park Hyatt®, Grand Hyatt®, Hyatt Regency®, Hyatt®, Hyatt Residence Club®, Hyatt Place®, Hyatt House® and UrCove Brands; Boundless Collection, including in the Miraval®, Alila®, Andaz®, Thompson Hotels®, Dream® Hotels, Hyatt Centric®, and Caption by Hyatt® brands; Independent Collection, including in The Unbound Collection by Hyatt®, Destination by Hyatt®, and JdV by Hyatt® brands; and Inclusive Collection, including in the Impression by Secrets, Hyatt Ziva®, Hyatt Zilara®, Zoëtry® Wellness & Spa Resorts, Secrets® Resorts & Spas, Breathless Resorts &
Spas®, Dreams® Resorts & Spas, Hyatt Vivid Hotels & Resorts, Alua Hotels & Resorts®, and Sunscape® Resorts & Spas brands. Members who book directly through Hyatt channels can enjoy personalized care and access to distinct benefits including Guest of Honor, confirmed suite upgrades at time of booking, diverse wellbeing offerings, digital key, and exclusive member rates. With more than 36 million members, World of Hyatt offers a variety of ways to earn and redeem points for hotel stays, dining and spa services, wellbeing focused experiences through the FIND platform; as well as the benefits of Hyatt's strategic loyalty collaborations with American Airlines AAdvantage®, Small Luxury Hotels of the World™, Lindblad Expeditions and MGM Resorts International. Travelers can enrol for free at hyatt.com, download the World of Hyatt app for android and IOS devices and connect with Hyatt on Facebook, Instagram, TikTok and Twitter.
Interested in this topic? Check out our other articles about Grand Hyatt!