Are you eager to embrace the spirit of Oktoberfest in Indonesia this year? In this article, Social Expat has put together comprehensive information on some of the top places in Jakarta where you can immerse yourself in the festivities.
And that's not all; we've also got the inside scoop on other exciting events offering fantastic free-flow deals throughout the entire month of October. So, grab your lederhosen and dive into the best list of Oktoberfest and other Free Flows in Jakarta!
Getting to know Oktoberfest as a global celebration
Originating in Germany, Oktoberfest was once an annual local tradition that evolved into the world's largest beer festival, attracting beer enthusiasts and partygoers from across the globe. While the epicentre of this celebration remains in Munich, Germany, Oktoberfest has found its way into the hearts and glasses of people worldwide. Jakarta has also not been left behind in this great global celebration of beer, music, and merriment.
Jakarta's Oktoberfest Festival Hotspots 2023
Oktoberfest Festival, Pantai Indah Kapuk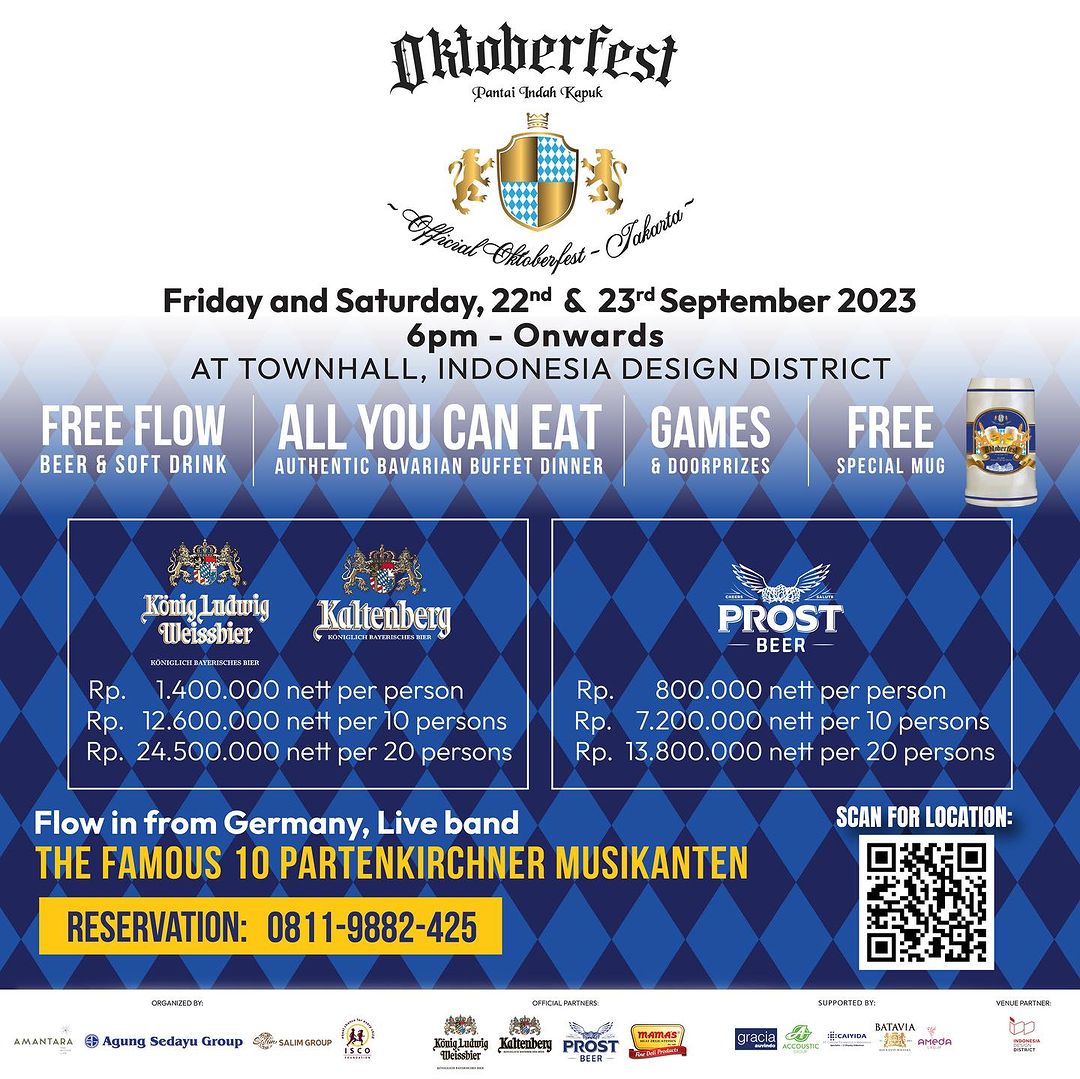 Oktoberfest PIK was held at Townhall, Indonesia Design District PIK2 (IDD) on September 22-23, 2023. It was a collaborative event between the Indonesian-German Economic Association (EKONID) and the non-profit organization Indonesia Street Children Organization (ISCO). Oktoberfest PIK was also sponsored by Orang Tua Group, PT. Soejasch Bali (Mama's German Restaurant), Acoustic Group, Ciyida, IQOS, Ameda Group, and Yukk Payment.
For those who missed the excitement of this event, there are still many other Oktoberfest events waiting for you in Jakarta!
Pullman Jakarta
View this post on Instagram

This October, Pullman Jakarta is pulling out all the stops to celebrate this beloved German festival. Set the date: from September 27, 2023, until October 31, 2023, and get the chance to immerse yourself in German Bavarian culture and cuisine, complete with classic German beers, delectable bratwurst, and expertly paired beer options. A temptation that is hardly resistable for everyone.
BUNK by Pullman Hotel, Jakarta
Podomoro City, Letjen S. Parman No.Kav. 28, South Tanjung Duren, Grogol petamburan, West Jakarta City, Jakarta 11470
Phone: +6221 292 000 88
Joint Oktoberfest 2023 at Paulaner Bräuhaus, Hotel Indonesia Kempinski Jakarta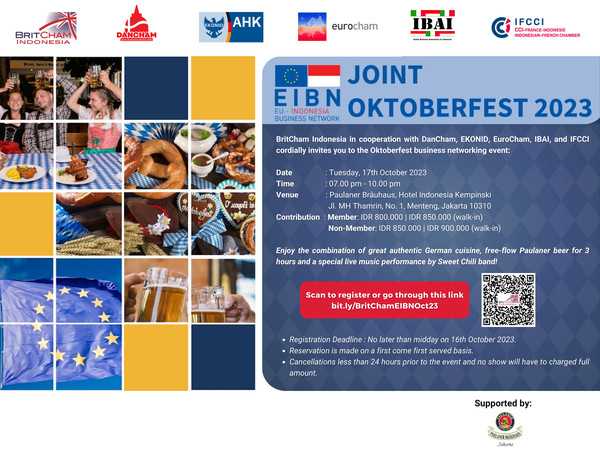 BritCham Indonesia in cooperation with DanCham, EKONID, EuroCham, IBAI, and IFCCI cordially invites you to the Oktoberfest business networking event.
This event is a great opportunity to meet and network with other business professionals in Indonesia while enjoying authentic German cuisine, free-flow Paulaner beer, and live music by Sweet Chili band.
Contribution:
Member: IDR 850.000 | IDR 900.000 (walk-in)
Non-Member: IDR 950.000 | IDR 1.000.000 (walk-in)
Hotel Indonesia Kempinski Jakarta
Jl. MH. Thamrin No. 1· Jakarta 10310 · Indonesia
Phone: +62 21 2358 3800, +62 81296171752
Oktoberfest at Bars in Jakarta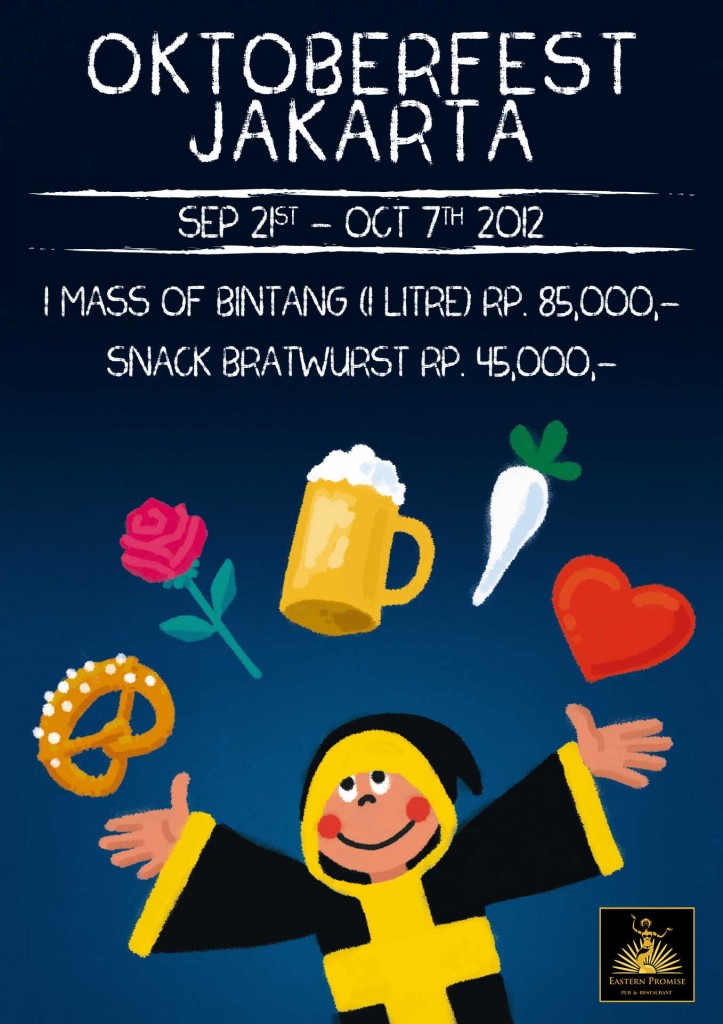 Other offers from selected bars during Oktoberfest 2023 – enjoy a 1 litre Bintang beer promo for only 85,000 IDR and one portion of Bratwurst for 45,000 IDR. The Oktoberfest promo is valid from September 21 to October 7, 2023.
Participating bars:
Eastern Promise – Kemang
Double Doors – West Jakarta
De Hooi – Pondok Indah
Cafe De Burse – SCBD Sudirman
CazBar – Kuningan
Die Stube Oktoberfest 2023

As one of a few German bars in Jakarta, Die Stube returns this year with Oktoberfest 2023  which will be held on October 20th and 21st at Pondok Indah Golf Gallery. This event will feature a wide range of German food, beer, and live music.
Die Stube Pondok Indah
Pondok Indah Golf Galery, Jl. Metro Pondok Indah, Pd. Pinang, Kec. Kby. Lama, Kota Jakarta Selatan, Daerah Khusus Ibukota Jakarta 12310
Phone: +6221 29208530
Black Owl Oktoberfest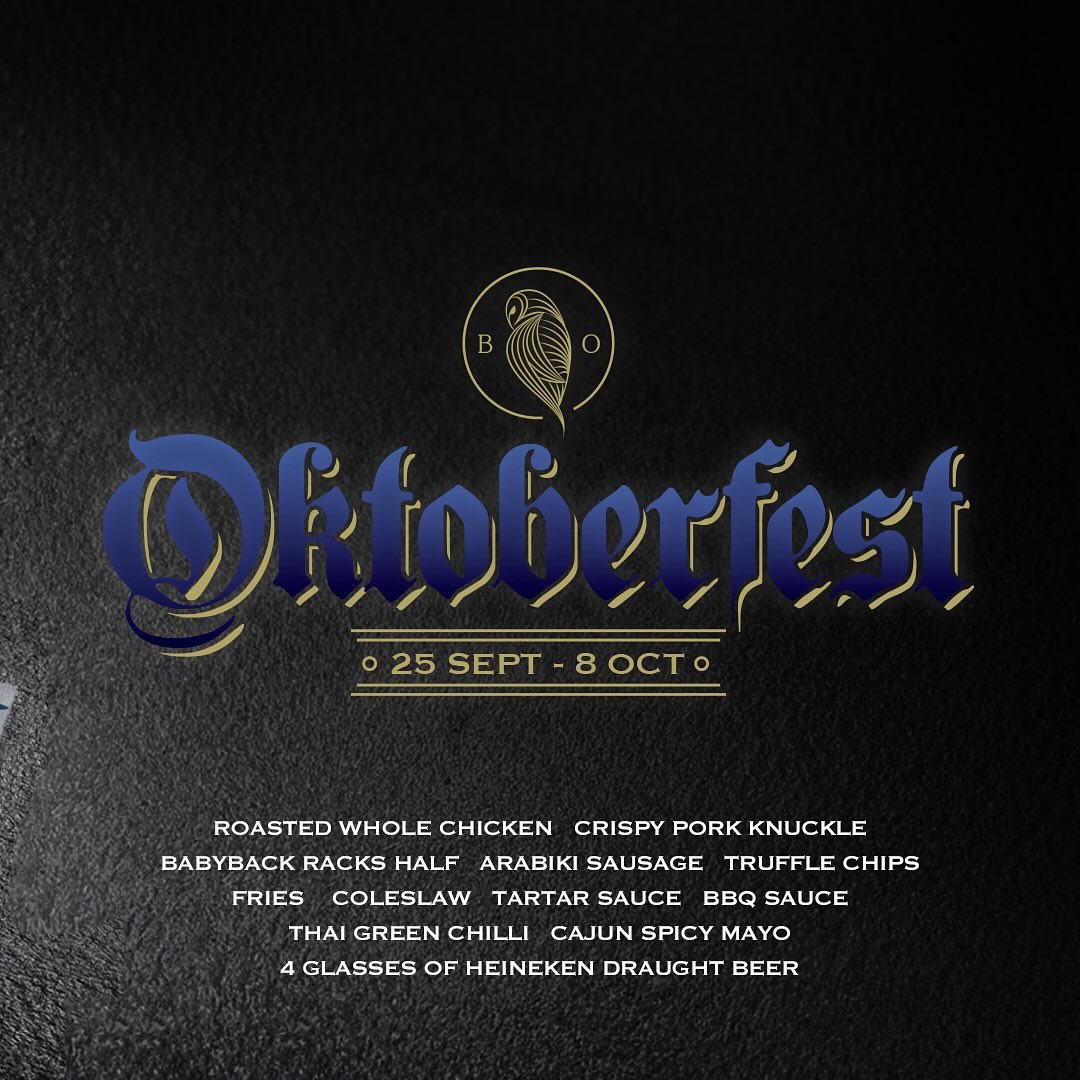 The Black Owl Oktoberfest will be held from September 25th to October 8th. This event will feature a special menu with Bavarian dishes, such as roasted whole chicken, crispy pork knuckles, and baby back pork ribs. There will also be four glasses of Heineken draught beer included in the price of entry.
The Black Owl, Jakarta
Jl. Boulevard Artha Gading No.18, Klp. Gading Bar., Jakarta, Jkt Utara, Daerah Khusus Ibukota Jakarta 14240
Phone: +628 88 8889 999
Pizza ė Birra Oktoberfest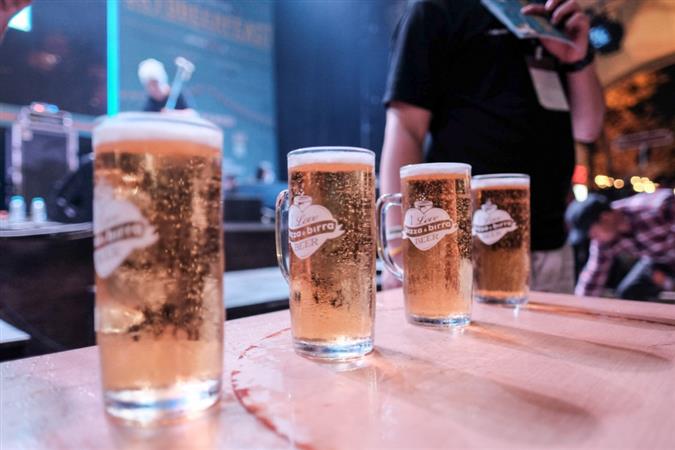 Pizza ė Birra is offering a limited-time menu for Oktoberfest. This menu includes dishes such as sausage swirl, meister platter, cheeseburger, chicken schnitzel, and apple strudel. The special menu will be available until October 31st, 2023.
Pizza e Birra, Jakarta
Kota Kasablanka, Lantai Upper Ground, Food Society, Jl. Raya Casablanca, RT.14/RW.5, Raya, Kec. Tebet, Kota Jakarta Selatan, Daerah Khusus Ibukota Jakarta 12870
Phone: +6221 294 751 37
Back Room at Pullman Jakarta Indonesia
The Back Room is the modern and elegant reincarnation of a traditional colonial club in Jakarta. Smoked-teak panels and plush contemporary armchairs set the scene for refined drinks and light bites in a friendly laid-back setting.
Experience a more festive Oktoberfest celebration this year and prost to good times and great beer! Let's join the Oktoberfest celebration at the Back Room, Pullman Jakarta Indonesia.
From September 25th to October 7th, immerse yourself in the authentic flavours of Germany.
Pullman Jakarta Indonesia
Jl. MH Thamrin 59, Jakarta 10350, Indonesia
Phone: +6221 3192 1111
Choosing the Perfect Oktoberfest Venue in Jakarta
With so many exciting options, how do you choose the best Oktoberfest venue in Jakarta for your celebration? Here are some tips to help you decide:
1. Look for venues that capture the true spirit of Oktoberfest with traditional decorations, music, and authentic German cuisine.
2. Check the beer menu for a diverse range of German brews, including lagers and wheat beers, to satisfy your beer cravings.
3. Ensure that the venue serves classic German dishes such as sausages, pretzels, and schnitzels to complement your beer.
4. Seek venues that create a lively and festive atmosphere, complete with live music and dancing, to make your Oktoberfest experience unforgettable.
5. Choose a venue conveniently located in Jakarta for easy access and transportation to and from the celebration.
6. Compare ticket prices and packages to find the best value for your Oktoberfest experience, ensuring it fits your budget.
7. Read reviews and recommendations from fellow Oktoberfest enthusiasts who have attended similar events in Jakarta to get insights and make an informed choice.
8. Look for venues that offer entertainment options such as games, contests, and cultural performances to keep the party spirit alive.
9. Prioritize venues that follow strict safety protocols to ensure a secure and enjoyable Oktoberfest celebration. Consider designated drivers or transportation options for a worry-free experience.
10. Given the popularity of Oktoberfest events, consider making reservations in advance to secure your spot, as venues tend to fill up quickly.
By considering these factors, you can make an informed decision and relish an authentic Oktoberfest experience in the heart of Jakarta.
Other Exciting October Events: Social Expat's October Lineup
Social Expat Networking Event at Highdrate Bar, Jakarta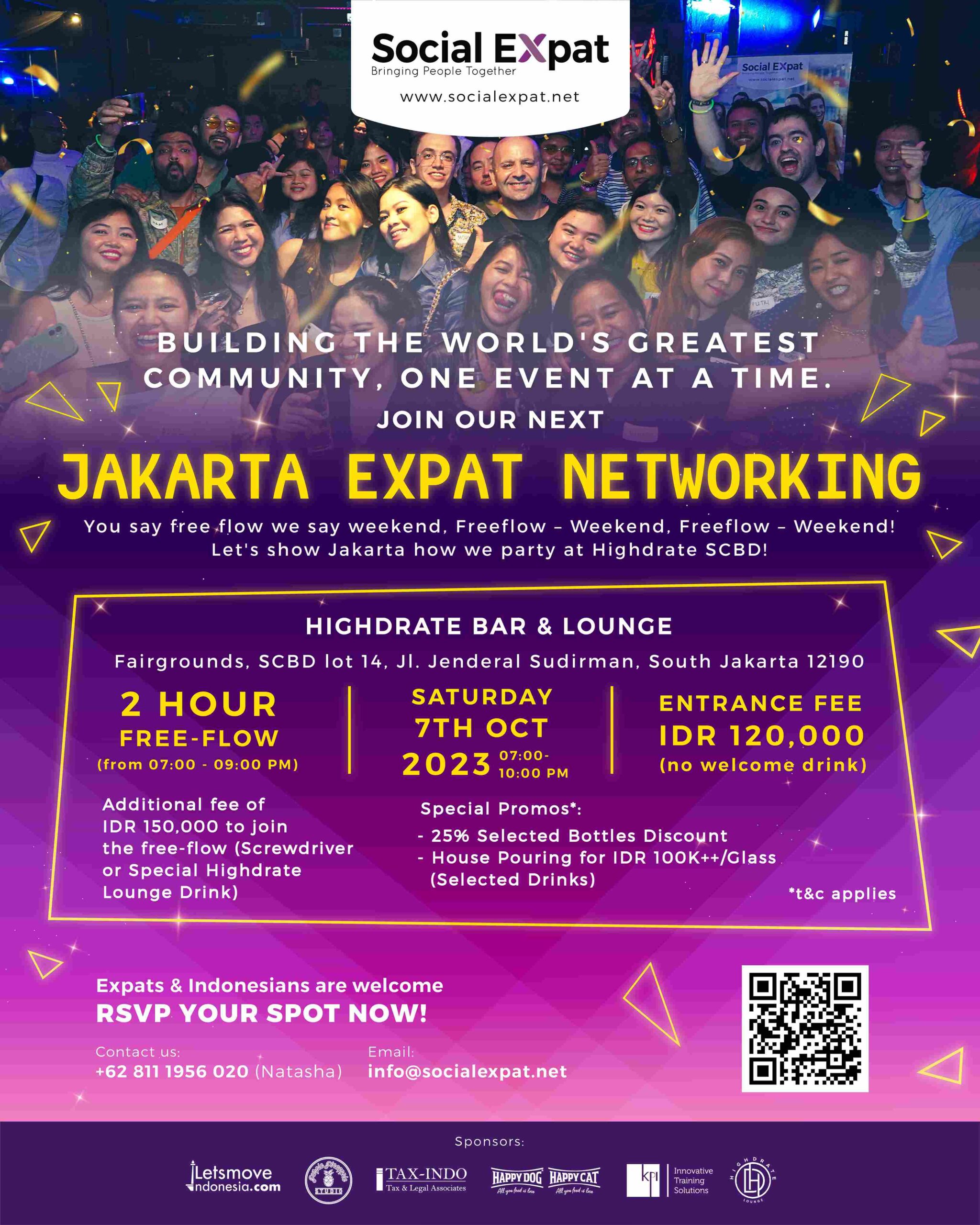 For those of you seeking a memorable October kick-off with new friends and Free Flow options for just 150,000 IDR, you can secure your spot at the very first Social Networking event of the month with Social Expat at Highdrate Bar, Jakarta. Pay the 120,000 IDR entrance fee and add an extra 150,000 IDR for free-flow Screwdriver or Special House Mix from Highdrate, all while mingling with fellow Social Expat members from various corners of the world. Don't miss out; register through the provided link:
Social Expat x Highdrate, October 7, 2023
7:00 PM – 10:00 PM
Registration for the Social Networking Event at Highdrate Bar, Jakarta can be done here.
Social Expat Networking Event at Noru Bar, Jakarta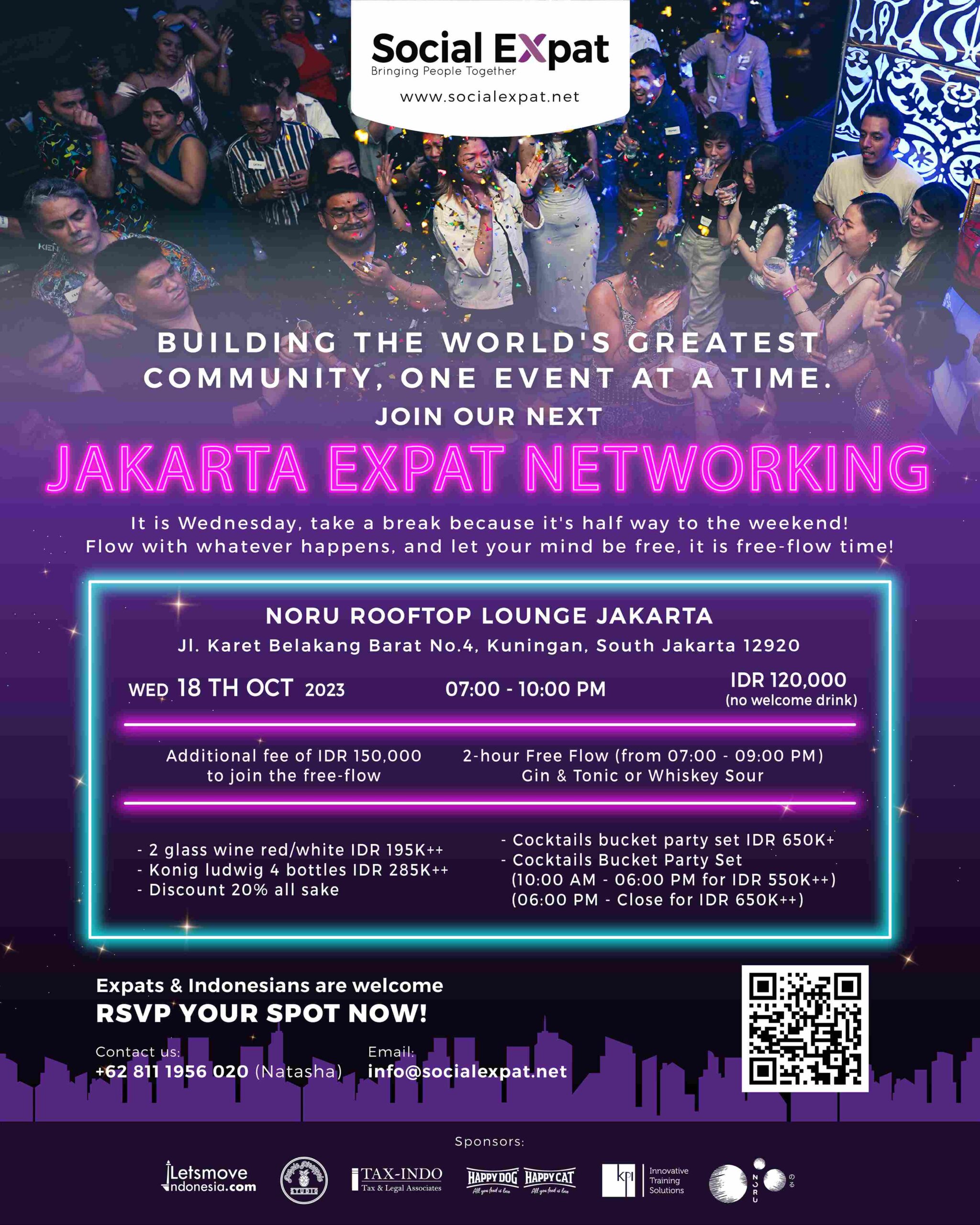 Immerse yourself in captivating conversations over free-flowing drinks while taking in the enchanting beauty of Jakarta's nighttime skyline at Noru Rooftop Bar, Jakarta. It's not just about making new acquaintances; at this event, you can also enjoy incredible deals on Freeflow gin and tonic or whiskey sour, all for just 150,000 IDR!! Mark your calendars; it's happening on October 18, 2023, from 7:00 PM to 10:00 PM at Noru Rooftop Bar, Kuningan Jakarta.
To secure your spot, access the registration link here.
Halloween Special Social Networking Event at Kina Bar, South Jakarta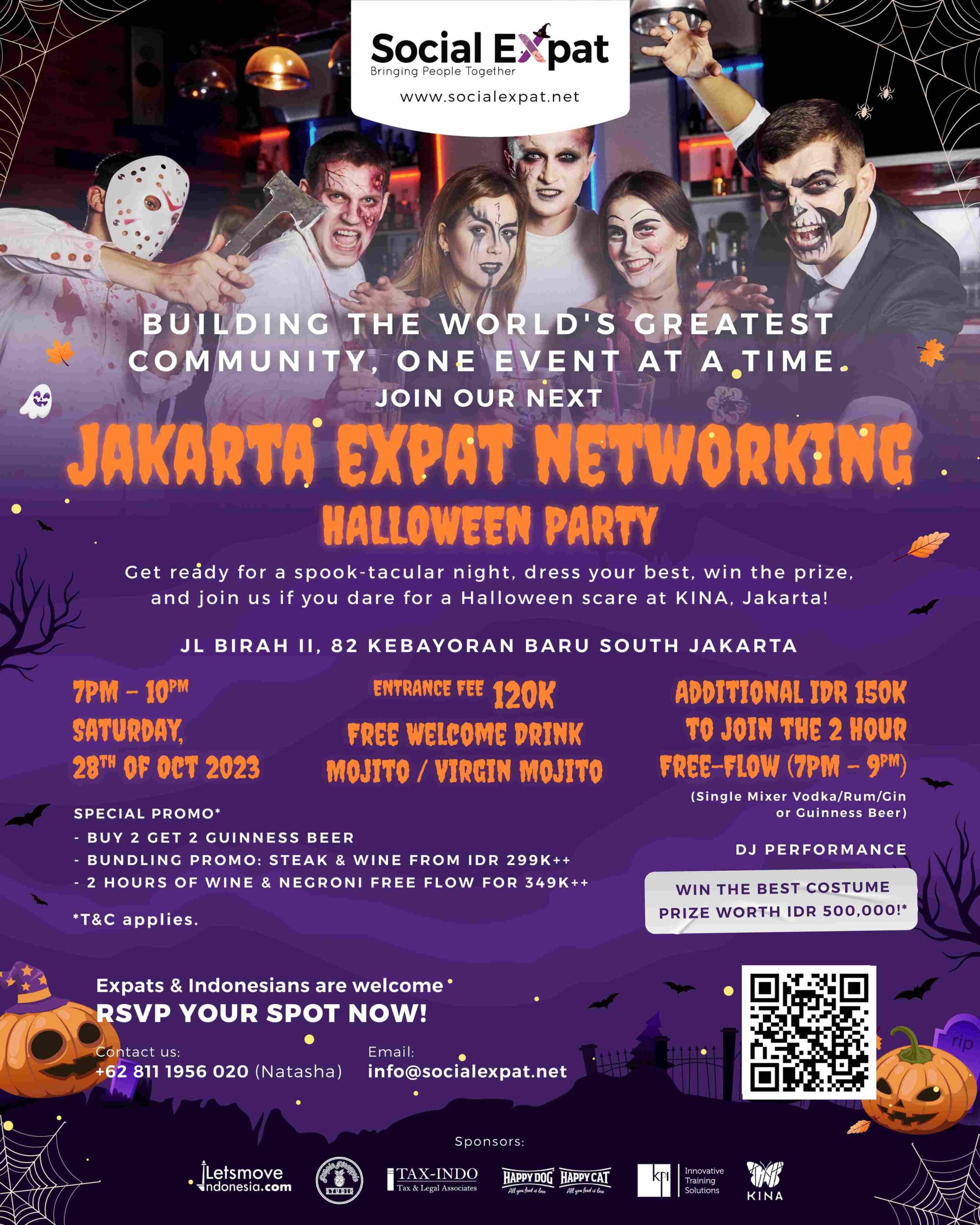 Prepare yourselves for the event you've all been eagerly awaiting this October – put on your most impressive costume and join the expat community in Indonesia for a spooktacular Halloween celebration at Kina Bar, Jakarta!! For a mere 120,000 IDR entrance fee, you can partake in the fun and receive a complimentary welcome drink in the form of a mojito or virgin mojito. Add an extra 150,000 IDR for a free-flow experience at the Spooktober party, featuring an array of drinks, including rum, vodka, gin, and Guinness Beer. Plus, there's a chance to win a 500,000 IDR voucher for the best costume!!
Social Expat's Halloween Party at Kina Bar, South Jakarta, is set to take place on October 28, 2023, from 7:00 PM to 10:00 PM. Don't miss out on the spine-
tingling fun; register by clicking the link here.
With a multitude of exciting events this October, so for those who fancy partying, have you decided which one would make it to your calendar?